Why Study Photonics?
Scientists, engineers and technicians with training in photonics and related technologies are in high demand. There is and will continue to be a big global demand for skilled people with photonics training. This leads to exciting, rewarding and highly paid careers.
Companies supplying optical communications and other optical devices are growing rapidly, not just in the UK, but world-wide.
By the year 2010, tens of thousands of jobs in the UK alone will be created in the photonics industry. By 2006, at least 700 graduates will be required each year by the photonics industry. Graduate salaries are around £16,000 pa, rising to over £35,000 pa for graduates with 5 years experience (New Scientist, July 2000).
This presents many opportunities for school leavers who wish to study photonics at college or university level. It is also an opportunity for people who are already in the early years of a science or engineering degree - think about specialising in photonics.
There is also a great opportunity for people with science or engineering qualifications who are already in the workforce, but are looking for a career change. Specialist postgraduate coursework degrees (Graduate Certificate, Graduate Diploma and Masters) can help you upgrade your skills or retrain to help you into the photonics industry.
Photonics manufacturing companies will also require people with business, technology management, marketing and legal skills who also have an understanding of photonics technology.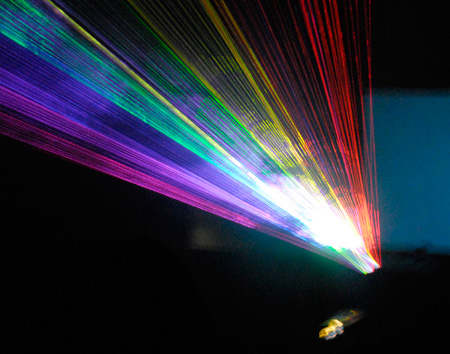 I never knew light could be so interesting

A-level student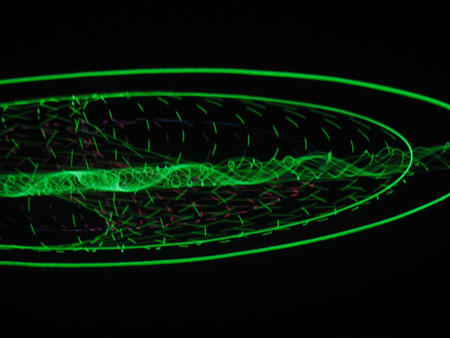 What are the Benefits of Photonics?
Benefits to You
Studying photonics can lead to an exciting and rewarding career in many different fields. These can include manufacturing, design, research, development, systems and applications. You can help design, develop, manufacture or install the network to bring high speed data and voice communications to the whole country, and across the world, from the biggest city to the smallest isolated community.
Benefits to the Community
Photonics is the enabling technology which allows very high speed communications at relatively low cost. This means that photonics will allow the roll out of high speed voice and data communications networks, helping reduce the tyranny of distance in such a large but sparsely populated country. Very high speed optical communications means that schools on opposite sides of the world can communicate and learn together in real time. A doctor or surgeon in a regional hospital can be assisted by a specialist in large city (or even in another country), possibly saving the patient a journey of many hours or even saving a life. Farmers could consult a specialist vet or agricultural specialist who could be many hundreds or thousands of kilometres away using high quality video in real time, potentially saving many hours of travelling and delays in treatment.
Benefits to the Nation
A highly skilled workforce means that companies will become more competitive, creating jobs and exports. This benefits not only photonics manufacturing companies, but also individuals and companies which use photonics technology for data and voice communications for business, education, health and recreation.
Benefits to the World
As photonics networks spread across the globe, voice and data communication becomes faster. This means you can carry more information along each fibre, making Internet and video telephony faster with more frames per second. What used to be a crackly phone call could become a high quality video conversation. The same technology can also be used to deliver high quality education, or specialist agricultural and medical advice to anywhere in the world.
All this can only happen if the photonics industry has enough skilled people. Could one of those people be you?