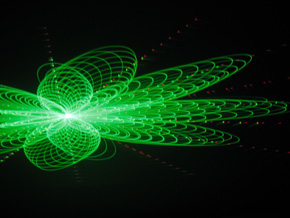 Technical Requirements
The Light Express Roadshow is totally self-contained apart from requiring power and water. There are a couple of essential requirements we have and if any of these are a problem, please contact us so that we can make alternative arrangement.
Distance

We are only able to travel for 60 - 90 minutes from Southampton. Please email me if you are unsure or if you would like to discuss the distance involved further.

Safety

Laser safety requires that the beam height is at least 3m from the ground, or cordoned off where it is below 3m. Therefore, the larger space you have available the better, and a stage would be a advantageous.

Time

We need at least 2.5 hours prior to the start time to set up.

Power

The laser system requires a couple of standard power sockets, but we will bring all our own extension cables.

Tables

We require a minimum of two sturdy tables of the same height on the stage or at the front of the room.

Access

Our laser equipment is on trolleys but it is very heavy and it would be preferable if there was parking nearby and we require ramp or lift access to the demonstration room

No Smoke Alarm

Our show uses mist to enhance the laser beams and therefore smoke alarms must be turned off in the room while we are setting up, and during the show

Music and data projection

While we can provide our own speakers and sound system - if we can plug in our sound system to your hall PA system - and data projector if you have one, it would be an advantage. Please have a technician on standby if you are happy to provide us with help.

Lighting

Our Laser display works best in complete darkness. For best effect we would prefer a room which could be blacked out or darkened.

No Air-Conditioning

Our show uses mist to enhance the laser beam shows and a better effect is achieved if there is no air conditioning or drafts in the demonstration room.

Access to Water

We require access to water to use during part of the show; a kitchen or bathroom tap is fine.